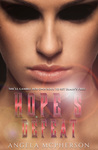 Hope's Defeat by Angela McPherson
My rating: 5 of 5 stars
Hope's Defeat by: Angela McPherson is the third in the Fated book series. This story is the perfect end to a perfect day. This book has amazing characters new and old that were well developed and fun to read about. All of these books were fun and full of just enough to keepn you in the edge of jour seat waiting to see what will happen next . I enjoyed this book as much if not more than its counterparts. Cant wait to see what this author does next. I give this book a solid 5 stars.
Review by @amandarae6884
View all my reviews
https://itsybitsybookbits.com/wp-content/uploads/2020/07/IBBB_2020_logo_sq.png
0
0
Amanda Pierce
https://itsybitsybookbits.com/wp-content/uploads/2020/07/IBBB_2020_logo_sq.png
Amanda Pierce
2019-01-02 00:11:55
2019-01-02 05:04:35
Hope's Defeat ( The Fated Series Book 3) by Angela McPherson – Review by Amanda Pierce