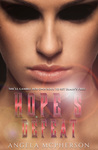 Hope's Defeat by Angela McPherson
My rating: 4 of 5 stars
This is the third book and continuation of Trinity and Blain's journey. In this installment, Trinity had hopes of a future with Blain until he turns to the dark side. Now she is left to try to bring him back but it may cost her her life, her right of passage. I love her character. She is so strong, feisty and she is determined. She made me feel as if I was right with her and I felt compassion for her. I highly suggest reading this book and the previous books so you get the full enjoyment.
Review by @bjwagner
View all my reviews
https://itsybitsybookbits.com/wp-content/uploads/2020/07/IBBB_2020_logo_sq.png
0
0
Bobbi Wagner
https://itsybitsybookbits.com/wp-content/uploads/2020/07/IBBB_2020_logo_sq.png
Bobbi Wagner
2018-12-18 09:44:31
2018-12-19 05:55:56
Hope's Defeat (The Fated Book 3) by Angela McPherson – Review by Bobbi Wagner