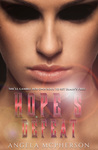 Hope's Defeat by Angela McPherson
My rating: 5 of 5 stars
Hope's Defeat is the third installment of the Fated Series by Angela McPherson. This series is one that I will read again because I am afraid, I missed something. The world that Angela McPherson has created with her stories makes me want to live in her books (I know that is not possible, but one can dream). This story has all the same elements as the first two books, paranormal. Mythology, curses, gods and goddess, and light and dark. This story is a continuation of Trinity and Blain story. Trinity is trying to help Blain get out of his situation with the dark side of the road. She is willing to give up everything and I mean EVERYTHING for him. What will Trinity have to do to get the dark side away from Blain? Enjoy the story of Hope's Defeat. Thank you, Angela McPherson for the Fated Book series.
https://itsybitsybookbits.com/wp-content/uploads/2020/07/IBBB_2020_logo_sq.png
0
0
Erica Fish
https://itsybitsybookbits.com/wp-content/uploads/2020/07/IBBB_2020_logo_sq.png
Erica Fish
2018-12-28 12:29:37
2018-12-28 13:16:15
Hope's Defeat (The Fated Book 3) by Angela McPherson – Review by Erica Fish