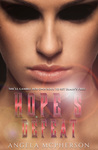 Hope's Defeat
By: Angela McPherson
My Rating: 4 of 5 stars
Hope's Defeat (The Fated #3) by Angela McPherson was the epic conclusion I was hoping for.
The third and final book in The Fate series, we are taking on a heart stopping journey that has more than one life on the line. I have to say, this is what I've been waiting for from this series. Just some housekeeping before we start, this is part of a continuation series, and each book picks up where the last leaves off. So I highly suggest reading the first two books, if not you will be lost and confused. And you will not be able to appreciate the progress and development our characters had displayed throughout. (Especially the MC)
I did have some issues with the other books, but held on as I knew there was something epical great hidden deep within this wonderful dark world, that Angela McPherson has created. I do still have some minor things, but again that all has to do with the MC, and frankly at this point, there's no need to get into it, as this is the last book.
What I want to stress is how freaking stoked I am about this book. It had a compelling plot, dangerous, dark and heartbreaking. The action starts pretty much right out of the gate, as does the race against time. And Blain, man oh man, I'm starting to wonder if the author hates him or something. Poor guy can't catch a break. But in all seriousness, that turn brought that extra desperate layer that I believe was missing from the other books. Ethics and morals come into play, and for me, finally got me to like Trinity.
If you haven't guessed from my gushing, I highly recommend this book, and this series. It gets my high stamp of approval, and my hope you will add this wonder to your collection.
Happy Reading
–Review by @eawalsh
https://itsybitsybookbits.com/wp-content/uploads/2020/05/group-blue-01-April-2020-300x177.png
0
0
Emily-Ann Walsh
https://itsybitsybookbits.com/wp-content/uploads/2020/05/group-blue-01-April-2020-300x177.png
Emily-Ann Walsh
2018-12-30 20:17:47
2018-12-31 07:43:25
Hope's Defeat (The Fated #3) by Angela McPherson – Review by Emily Walsh