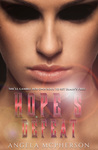 Hope's Defeat by Angela McPherson
My rating: 4 of 5 stars
Hope's Defeat (The Fated book 3) by Angela McPherson
4 Stars!!!!
Once again I have delved into Trinity's world and once again I was sucked in from page one. The author has such a refreshing writing style. The story just rolls out from the pages and takes the reader on a journey. I couldn't put the book down wanting to find out what would happen next.
The whole fight against evil even though supernatural is brought to life in this book. I found myself routing for Trinity and Blain. The whole twist at the end just brought the whole book full circle for me. I am such a huge fan of Greek mythology and the way in which the author uses it brings such a refreshing take on it all. I will definitely be reading more from this author and hopefully more from this series.
Reviewed by @caraleeloonat
https://itsybitsybookbits.com/wp-content/uploads/2020/07/IBBB_2020_logo_sq.png
0
0
Caralee Loonat
https://itsybitsybookbits.com/wp-content/uploads/2020/07/IBBB_2020_logo_sq.png
Caralee Loonat
2018-12-27 14:02:59
2018-12-27 14:48:32
Hope's Defeat (The Fated Book 3) by Angela McPherson – Review by Caralee Loonat