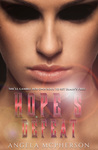 Hope's Defeat by Angela McPherson
My rating: 5 of 5 stars
Well Angela McPherson sure knows how to write one heck of a finale! This book really just blew me away. I was left wanting more because it was that great, but I was also satisfied with how well it was concluded. Both great signs of a wonderful ending to a wonderful series. I really must reiterate what I have been saying along with my other reviews for The Fated books. Angela Mcpherson's strong suit is here. I had read some of her other novels prior to picking up these and they were good, but not near as shiny great as these have been. Now as I am mentioning this book is a conclusion to a series so please don't pick it up before devouring the first two novels and in order or you will be lost as all get out. Besides its worth every second of your reading time. I am not going to go into details and ruin this amazing end for you, I just can't bare to do it. I do HIGHLY recommend this read, you won't be disappointed you did! Thank Angela McPherson for the amazing adventure with Trinity and Blain!
Review by @lizaileen
View all my reviews
https://itsybitsybookbits.com/wp-content/uploads/2020/07/IBBB_2020_logo_sq.png
0
0
Liz Vrchota
https://itsybitsybookbits.com/wp-content/uploads/2020/07/IBBB_2020_logo_sq.png
Liz Vrchota
2018-12-23 14:52:21
2018-12-23 18:23:48
Hope's Defeat (The Fated Book 3) by Angela McPherson ~ Review by Liz Vrchota