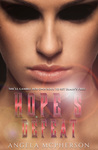 Hope's Defeat by Angela McPherson
My rating: 5 of 5 stars
A great read about struggles. After the events of the last book, Blain was infected by the dark orbs. Desperate to save him, Trinity uses new powers to look for a forgotten god and ask for help. But everything comes with a price, and is it too much to pay?
A great read. Well developed plot with twists and turns. Well developed characters like Trinity trying to do whats right whilst dealing with new powers or new friends like Kyron and Centu supportive and brave. A spinechilling villain in Cronus
I loved the visual detail throughout the novel with the natural imagery of the crisp dawn or the green meadows in the dream so vivid felt as if you were there. I also loved the sense of the elements with ice and fire and air with the wind and the aether aswell was a brillaint addition for a more powerful magical feel to the novel. The contrasts with cold and hot and vivid colours such as black and red or green and blue were perfectly written.
I loved how it started straight with the action and Watchers to captivate the reader from the start. I also adored the use of mythology in the book with Cronus and Tarturus true to the original. Fast paced action and high stakes in a fantasy world made for a captivating read.Overall, a great read and I would give it five stars.
https://itsybitsybookbits.com/wp-content/uploads/2020/07/IBBB_2020_logo_sq.png
0
0
Sarah Oakes
https://itsybitsybookbits.com/wp-content/uploads/2020/07/IBBB_2020_logo_sq.png
Sarah Oakes
2018-12-22 08:12:18
2018-12-22 08:19:15
Hope's Defeat (The Fated) by Angela McPherson – Review by Sarah Oakes