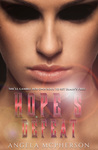 Hope's Defeat by Angela McPherson
My rating: 4 of 5 stars
I give Hope's Defeat (The Fated Book 3) by Angela McPherson, 4 stars.
**This review contains spoilers from previous books in the series.**
The evil darkness now took over Blain. Trinity doesn't know what to do anymore. She promised to never stop. But so many Watchers have died trying to rescue him. So she decides to take matters into her own hands. But it's not that easy. Melia was nothing compared to the new evil that is lurking. Cronus. An evil god who was locked away and now wants to come back and take over. But will Trinity give him what he wants just to get Blain back? If she does, then what?
I have enjoyed this series and this book is no exception. Trinity has really stepped up to take on the responsibilities required of her. But she still struggles. She is tired of everything getting worse. This makes her real and likable because she is not perfect. Her family and friends really play parts in this too. They have to accept what she really is and her role in all this. The people are what make this book and series. But the story is great too. One enemy has been defeated, but there is one even worse. A god. And the other gods cannot and will not help. This was an interesting addition to this book.
Overall, this was a great book and I highly recommend it to young adult and older lovers of fantasy and urban fantasy who also enjoy a strong female lead character.
Review by @erinwolf79
https://itsybitsybookbits.com/wp-content/uploads/2020/07/IBBB_2020_logo_sq.png
0
0
Erin Wolf
https://itsybitsybookbits.com/wp-content/uploads/2020/07/IBBB_2020_logo_sq.png
Erin Wolf
2018-12-30 17:02:25
2018-12-30 18:32:13
Hope's Defeat by Angela McPherson – Review by Erin Wolf