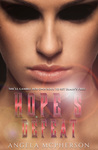 Hope's Defeat by Angela McPherson
My rating: 5 of 5 stars
Hope's Defeat is the thrilling conclusion (third book) to The Fated series by Angela McPherson. This book (and series) is in my top reads for this year and definitely one of my all-time favourites, ever! I adore this spellbinding fantasy- it has everything you could want in a riveting read, and if you love your fantasy/paranormal- then you are in for a real treat. The book has incredible paranormal elements, a bit of a twist on Greek Mythology, a Curse, Immortals, Gods & Goddesses, Light and dark, good vs evil, mystery, drama, destiny, action, adventure, suspense, danger, intrigue, magic, and romance- it will also keep you on the edge of your seat and leave you guessing the whole way through. This incredible story is woven around the legend of Pandora's Box and it's a wonderfully original and exciting read! As I said in my review of the first 2 books, this story/series definitely has a 'Percy Jackson' feel to it, and would definitely make a wonderful and exciting television series.
This story picks up 3 weeks after the intense events of the previous book. Trinity feels an enormous amount of guilt over what happened and blames herself. She feels like she's let everyone down, especially Blain, as she wasn't able to prevent what happened. But when events unfold, and Trinity is given the chance to be normal, will she take it- or embrace her fate?
GAH!!! I sooooo love this book/series soooo much. I really don't want it to end!!! This book, being the conclusion, was the most intense and had some intense suspense and gripping action! It was also steamier than the other two books, as Trinity and Blain's relationship matures and evolves.
The characters are really superb- so well developed and brought to 'life' by Ms. McPherson- they are fully realized individuals with their own personalities, quirks and flaws. They were so believable, and continued to mature, grow and develop as the story unfolded.
I really hope that this won't be the last that we'll see of these wonderful characters, and that we will get to revisit them again in the future!!!
As I've said before- Pure perfection!!!!
I CAN NOT WAIT to see what Ms. McPherson does next!
Thank You, Ms. McPherson!!
Reviewed by @angelahayes
https://itsybitsybookbits.com/wp-content/uploads/2020/07/IBBB_2020_logo_sq.png
0
0
Angela Hayes
https://itsybitsybookbits.com/wp-content/uploads/2020/07/IBBB_2020_logo_sq.png
Angela Hayes
2018-12-20 19:52:07
2019-02-22 15:22:28
Hope's Defeat (The Fated Series Book #3) by Angela McPherson – Review By Angela Hayes.