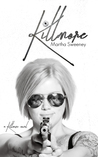 Killmore by Martha Sweeney
My rating: 5 of 5 stars
I did not know what to expect when I picked up Killmore but I knew it would be good for sure being an Martha Sweeney novel. I had no idea it would be this good though. I was taken on a completely up and down emotional rollercoaster with Leia/ Laurie and I honestly couldn't tear myself away for one second from start to finish. I found myself finishing up this book in just a few short hours. I am super excited to know the next one, The Killmores, is available now to devour. That is actually what I will be doing as soon as I finish up this review.
This follows the tragic and yet transformative story of Leia to Laurie. At first we meet Leia. She is miserable with her husband and wants so badly to escape his abuse. This man not only abuses her but lets others abuse her for profit too. Finally things fall into place and she finds herself in the witness protection program.
Seven years later and Leia is now Laurie running a business and keeping things close to the vest like her past, the few friends she trusts, many weapons, and of course her heart. Everything will get a little tricky though when the handsome Agent Aiden Kilmore comes into her life and needs her help. These two have a connection that will ignite the screen of your kindle on fire! I suggest that you have a tall glass of water nearby! Watch out for the twists and turns that you just won't see coming even with the warnings. I can't say much more without ruining all the fun. For all that and more you will have to devour this little gem for yourself! Happy reading!
Review by @lizaileen
View all my reviews
https://itsybitsybookbits.com/wp-content/uploads/2020/07/IBBB_2020_logo_sq.png
0
0
Liz Vrchota
https://itsybitsybookbits.com/wp-content/uploads/2020/07/IBBB_2020_logo_sq.png
Liz Vrchota
2018-12-02 21:19:11
2018-12-03 09:34:23
Killmore (Killmores #1) by Martha Sweeney ~ Review by Liz Vrchota