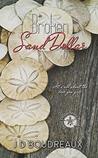 Broken Sand Dollar by J.D. Boudreaux
My rating: 5 of 5 stars
5 Star
Broken Sand Dollar ( The Sand Dollar Series Book 3 ) By J.D.Boudreaux is the third book in The Sand Dollar Series .This is a continuation of book one and two I would highly recommend reading the fish series in order.My emotions were all over the place from laughing one minute to crying softly the next. I've truly enjoyed this series from the beginning and this Book was no different I couldn't put it down once I started reading. II loved how I felt like I was part of the story going through everything they did.This is a story that shows us that sometimes things( love) isn't always the easiest but that there is such a thing as true love I highly recommend grabbing this series you won't be disappointed I know I wasn't. I look forward to reading more from this Author.
https://itsybitsybookbits.com/wp-content/uploads/2020/07/IBBB_2020_logo_sq.png
0
0
Dawn Daughenbaugh
https://itsybitsybookbits.com/wp-content/uploads/2020/07/IBBB_2020_logo_sq.png
Dawn Daughenbaugh
2019-02-24 22:40:43
2019-02-25 07:56:57
Broken Sand Dollar (The Sand Dollar Series Book 3) by J.D. Boudreaux – Review by Dawn Daughenbaugh