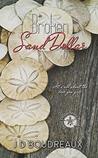 Broken Sand Dollar by J.D. Boudreaux
My rating: 5 of 5 stars
Another wonderful read in this series! I loved the two books that came before this one so I was really looking forward to reading this one and I was not disappointed. It was everything that I have come to expect from this author – beautifully written, great characters, lovely plot and full of emotion! I loved how she tied up everything from the previous two books together with this one – I always thought I knew Alex and what his story would be like so I LOVED that I was wrong! The author definitely threw in some unpredictable curveballs which made the story even more exciting to read! I am really sad that the story of these wonderful characters has ended but I know for sure whatever J D Boudreaux writes next it will be equally as wonderful and I will be eagerly awaiting more from her in the future!
Broken Sand Dollar was a fantastic 5 star read that I highly recommend – I also recommend that the series in read in order.
Reviewed by @katiem
https://itsybitsybookbits.com/wp-content/uploads/2020/07/IBBB_2020_logo_sq.png
0
0
Katie Matthews
https://itsybitsybookbits.com/wp-content/uploads/2020/07/IBBB_2020_logo_sq.png
Katie Matthews
2019-02-26 09:56:18
2019-02-26 10:35:44
Broken Sand Dollar (The Sand Dollar Series Book 3) by J.D. Boudreaux – Review by Katie Matthews