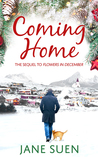 COMING HOME by Jane Suen
My rating: 5 of 5 stars
Coming Home is the sequel to Flowers in December by Jane Suen.
We meet back up with Connor, four months after the end of the first book. He has 'come home' for the holidays as a way of honouring his mother and his/their memories. This story is a continuation of the first book, with Connor still coming to terms with his mother's passing, the grieving process, self-realization, forgiveness, finding a way to move forward, mending bridges, hope, love, and emotion- that happens over the course of the story. I loved it even more than the first book.
I really recommend reading the first book before starting on this one, as all the backstory and other relevant information is contained in that book. Ms. Suen had me hooked quite quickly and engaged me the whole way through. It is a short story, and I finished it quite quickly- but as with the first book, the author infused so much emotional content into the story- it has stayed on my mind long after finishing it.
I wonder what Ms. Suen has up her sleeve for us next. She certainly likes to surprise us!
Thank you, Ms. Suen!
Reviewed by @angelahayes
https://itsybitsybookbits.com/wp-content/uploads/2020/07/IBBB_2020_logo_sq.png
0
0
Angela Hayes
https://itsybitsybookbits.com/wp-content/uploads/2020/07/IBBB_2020_logo_sq.png
Angela Hayes
2019-02-27 22:49:08
2019-02-28 06:16:50
Coming Home: The Sequel to Flowers in December by Jane Suen – Review by Angela Hayes