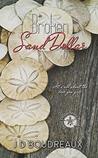 Broken Sand Dollar by J.D. Boudreaux
My rating: 5 of 5 stars
Broken Sand Dollar is the third and final instalment in the Sand Dollar series by JD Boudreaux. These stories are always highly energetic and extremely busy. So much goes on and the author conveys so much and gives away so little, which keeps you riveted to each page. It is almost impossible to put down and easy to lose yourself in.
In this story, the characters from books one and two all come together to give a reader a stunning conclusion to the series.  This book was romantic, emotional and totally captivating. The characters, while different, meshed together well and left wonderful memories of their journey. The tale grabs your attention and holds it captive until the last word.  Never lacking in complexity and depth, it was a great way to pass a lazy weekend. I read in in one sitting because it was that good. Sad to be at the end of the series, but so happy to have got to experience the wonder that is the Sand dollar series. 5 stars.
https://itsybitsybookbits.com/wp-content/uploads/2020/07/IBBB_2020_logo_sq.png
0
0
Tracy Wilkin
https://itsybitsybookbits.com/wp-content/uploads/2020/07/IBBB_2020_logo_sq.png
Tracy Wilkin
2019-03-02 00:07:13
2019-03-02 08:11:47
Broken Sand Dollar (The Sand Dollar Series Book 3) by J.D. Boudreaux – Review by Tracy Wilkin