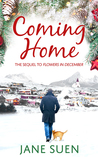 COMING HOME by Jane Suen
My rating: 4 of 5 stars
Coming Home by Jane Suen
4 Stars!!!!
I have to say that this second book was really quite the follow up. I like the opportunity to see how Connor dealt with the grief of losing his mom. This book also gave us an oppertunity to see into the lives of a few others in the community. The author really did a fine job of tying in all the characters.
I can't help but feel like this was a window in a way into my own grief that I still feel. I really can relate to Connor. The flash backs really helped to add to the book. I also was very intrigued to learn more about Dottie and her daughter Alana. I was so glad they were able to look past their differences. I like the cliff hanger as to Connor and Mary Ann. The author has a great way of grabbing the reader from the beginning and keeping you glued to the pages wanting more. I look forward to reading more from this author in future.
Reviewed by @caraleeloonat
View all my reviews
https://itsybitsybookbits.com/wp-content/uploads/2020/07/IBBB_2020_logo_sq.png
0
0
Caralee Loonat
https://itsybitsybookbits.com/wp-content/uploads/2020/07/IBBB_2020_logo_sq.png
Caralee Loonat
2019-03-07 16:20:03
2019-03-07 16:40:59
Coming Home (Flowers in December Series Book 2) by Jane Suen – Review by Caralee Loonat