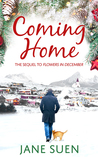 COMING HOME by Jane Suen
My rating: 4 of 5 stars
I was pleasantly surprised when I saw this pop up on my feed. I had absolutely adored Flowers in December and was left wanting more, not with loose ends, but still wanting some more of Connor and what would come next for him. This was that and so much more. We just happen to get a lot more than we may have even bargained for. I would highly recommend that you read the first book, Flowers in December before devouring this one, everything will flow and make sense so much more. This one is obviously a holiday/Christmas story but I really feel as is I will be pulling this gem out any time of year, whenever I need an emotional and yet encouraging read. I almost feel as if these two books together would create a great Hallmark Christmas movie. I can't wait to find out what will come next from Jane Suen! I am sure it will fantastic whatever it will be, and on my to be read list! Happy reading!
Review by @lizaileen
View all my reviews
https://itsybitsybookbits.com/wp-content/uploads/2020/07/IBBB_2020_logo_sq.png
0
0
Liz Vrchota
https://itsybitsybookbits.com/wp-content/uploads/2020/07/IBBB_2020_logo_sq.png
Liz Vrchota
2019-03-01 22:07:01
2019-03-01 22:29:05
Coming Home: The Sequel to Flowers in December by Jane Suen – Review by Liz Vrchota