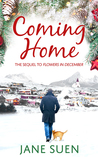 COMING HOME by Jane Suen
My rating: 4 of 5 stars
Coming Home: The Sequel to Flowers in December by Jane Suen has us catching up with Connor. He moves back to his hometown after he quits his job after the death of his mother. There so much that happens just after he gets back into town, including reconnecting with a neighbor after a significant amount of time.
Connor still doesn't seem to have all of his timing in life back but he's slowly getting there. But as anyone who has lost someone special the first of everything is the hardest and this is Connor's first Christmas without his Mama.
I'm hoping to see more of Connor and to see if his timing with a young lady improves to the point of being in tune.
I have enjoyed the series so far even if there are some down parts.
https://itsybitsybookbits.com/wp-content/uploads/2018/09/41350827_531011120653197_5005389383935721472_n-1030x381.jpg
0
0
Robin Rankin
https://itsybitsybookbits.com/wp-content/uploads/2018/09/41350827_531011120653197_5005389383935721472_n-1030x381.jpg
Robin Rankin
2019-03-10 18:25:43
2019-03-11 06:59:05
Coming Home: The Sequel to Flowers in December by Jane Suen - Review by Robin Rankin