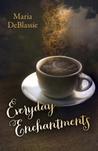 Everyday Enchantments by Maria F. DeBlassie
My rating: 5 of 5 stars
Everyday Enchantments: Musings on Ordinary Magic & Daily Conjurings by Maria DeBlassie. This book was AMAZING. I was not sure about it to be honest but let me tell you once I started I couldn't put it down. It was simple yet so complicated all at the same time. It's a series of stories about finding the wonderful in the normal, everyday simple things. Making life magical when no one expects anything but the same ole, same ole. It's about slowing down and enjoying life and moments not things and taking into account all the wonderfulness, thankfulness, mindfulness and reflection in life. Letting life do its thing and enjoying the ride as you go. Read this book, you will be so glad you did!
Reviewed by @tytanmom19
https://itsybitsybookbits.com/wp-content/uploads/2020/07/IBBB_2020_logo_sq.png
0
0
Tausha Treadway
https://itsybitsybookbits.com/wp-content/uploads/2020/07/IBBB_2020_logo_sq.png
Tausha Treadway
2019-03-14 10:16:18
2019-03-14 12:36:11
Everyday Enchantments: Musings on Ordinary Magic & Daily Conjurings by Maria DeBlassie – Reveiw by Tausha Treadway