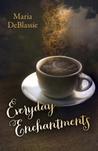 Everyday Enchantments by Maria F. DeBlassie
My rating: 4 of 5 stars
Everyday Enchantments: Musings on Ordinary Magic and Daily Conjurings by Maria DeBlassie is a book designed to get you thinking in a different way.
This book is one that was written in a different style to that which I am used to reading and I found that refreshing. I loved that the book was almost in nice little bite sized chunks for you. For myself, running around after a one year old, it made it so much easier to read. I could pick it up and put it down easily, falling straight back into the authors rhythm every time I did. It really helps you to reflect on your everyday life and news ways of thinking about things.
This is honestly the type of book that I never thought I would read but I am so glad I did. Brilliant from start to finish I would highly recommend everyone give this book a go!
https://itsybitsybookbits.com/wp-content/uploads/2020/05/group-blue-01-April-2020-300x177.png
0
0
Kerry Baker
https://itsybitsybookbits.com/wp-content/uploads/2020/05/group-blue-01-April-2020-300x177.png
Kerry Baker
2019-03-30 01:37:59
2019-03-31 00:36:36
Everyday Enchantments: Musings on Ordinary Magic & Daily Conjurings by Maria DeBlassie – Review by Kerry Baker