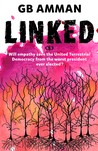 Linked by Gaia B. Amman
My rating: 5 of 5 stars
This sci-fi romance read is my first read from Gaia B. Amman, and I'm so glad that I got to experience this read! I didn't expect to enjoy this read as much as I did, I was captivated right from the start, it was engaging and a refreshing read. Politics isn't something I normally read about, but everything else that happened in this read balanced it out and I found my self utterly drawn to this book, and its characters. It had many twists and turns, but the one thing I wanted more of was action, every time there was action it was over within a second and I wanted it to build but nonetheless, it was a vividly mentally visual read.
I loved the concept of each of these characters and their nicknames and the real meanings behind them.
I loved Naira's character she is determined and confident and knows what she wants but she is made even better when Lethal comes into the picture. These two share something so powerful, special, intimate and intense, but boy oh boy is amazing to read! There are so many feelings in this book that are raw and emotional to the reader let alone the characters them self, I'm just so glad that in the end some understanding and love was brought between the two.
I loved everything about this book, and hope after that ending that this isn't the last we see of these characters and their story.
I highly recommend this read!
Reviewed By @tillytillzz
https://itsybitsybookbits.com/wp-content/uploads/2018/09/41350827_531011120653197_5005389383935721472_n-1030x381.jpg
0
0
Chantelle Smith
https://itsybitsybookbits.com/wp-content/uploads/2018/09/41350827_531011120653197_5005389383935721472_n-1030x381.jpg
Chantelle Smith
2019-03-17 15:46:10
2019-03-18 08:34:05
Linked: Can Empathy Save the United Terrestrial Democracy? by Gaia B. Amman - Review by Chantelle Smith