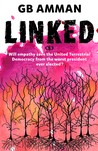 Linked by Gaia B. Amman
My rating: 5 of 5 stars
If I could, I would quote the author's words verbatim from the very last page of this book. I would give that 27 stars on its own – paired with this amazing story…. there aren't enough stars in the universe.
According to Merriam Webster ™
em·​pa·​thy | \ ˈem-pə-thē \
1 : the action of understanding, being aware of, being sensitive to, and vicariously experiencing the feelings, thoughts, and experience of another of either the past or present without having the feelings, thoughts, and experience fully communicated in an objectively explicit manner
This story has so many amazing layers and undertones. It is written in a way that is pure perfection. While it is set in an imaginary world in the future, there is nothing imaginary about it.
I want to write so much about this story. About how I whipped through it and read it at work and how it took me out of my head and the stuff that's going on right now. About how I empathized with the characters and what they were going through and about how everyone should have to walk in someone else's shoes before judging them (don't get me started about how everyone should have to waitress, work retail, and clean toilets as a job at least once in their lifetime). This is one of those books that I will be recommending to everyone. It was FANTASTIC.
Here are 3 of my favorite quotes:
"Nobody chooses what they are, only what to make with it."
"Anyone can be the chosen one; you just have to dare to be different."
"We all feel so entitled to our pain that we make ourselves blind to everyone else's."
I've read stories by this author before and this is my favorite from her and is in my top 5 of 2019.
Review by @mauraharper
https://itsybitsybookbits.com/wp-content/uploads/2020/07/IBBB_2020_logo_sq.png
0
0
Maura Harper
https://itsybitsybookbits.com/wp-content/uploads/2020/07/IBBB_2020_logo_sq.png
Maura Harper
2019-03-27 14:20:19
2019-03-27 17:19:19
Linked: Can Empathy Save the United Terrestrial Democracy? by Gaia B. Amman – Review by Maura Harper