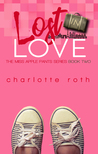 Lost in Love: Miss Apple Pants by Charlotte Roth
My rating: 5 of 5 stars
Lost in Love (The Miss Apple Pants series Book 2) by Charlotte Roth
5+++ Stars
Then there's a new favorite by this author…I loved the the first Miss Apple Pants but let me say, I love this one even more. When I say I could not put this book down I mean I couldn't put it down. I wish I had the words to explain what it is about this authors books that keep me racing back for more, for one it is her characters and the way this author writes their interactions…They just seem so so real. Another is the family and the friendships that she writes about. Then there's the storylines that keep me from doing what a real life wife should be doing, like cooking and cleaning and conversing with anyone around me lol
I don't even know where to begin with this review as far as the story itself. Let me just say that it just flowed and every word was needed to fulfill what was happening…No fluff added to make the story longer. There were very subtle little twists and turns throughout the story, those you see coming and just can't wait to see them happen and then those you don't really see coming but aren't earth shattering throw your kindle kind of twists and the characters OMG, I am so so so in love with Ella's family, they made me laugh so many times throughout the story and the addition of Mrs Rock and her story just added the cherry on top of this whole book.
I absolutely love this author, she is on my list of favorites and I completely and sincerely recommend everything she writes and I suppose you could read this as a standalone, but don't do that…Grab the first and read them both for the full enjoyment of this story.
Can not wait to she what she writes next!
Loved It!!
Review by @debikircher
https://itsybitsybookbits.com/wp-content/uploads/2020/05/group-blue-01-April-2020-300x177.png
0
0
Debi Kircher
https://itsybitsybookbits.com/wp-content/uploads/2020/05/group-blue-01-April-2020-300x177.png
Debi Kircher
2019-03-17 07:26:12
2019-03-17 07:26:12
Lost in Love (The Miss Apple Pants Series Book 2) by Charlotte Roth – Review by Debi Kircher