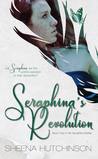 Seraphina's Revolution by Sheena Hutchinson
My rating: 4 of 5 stars
Seraphina's Revolution is the fourth book in the Seraphina series written by author Sheena Hutchinson. Each novel in this series has held pace and/or was even better than the previous books in the series. It is not often a sequel lives up to the hype that is built in the previous book(s). Sheena Hutchinson excels in creating works of art with her writing. I found that Seraphina's continued transformation and/or struggles were outstanding and draw the reader into the story staying with the characters to see if they overcome or succumb to their potential fates. Without giving away details in regards to more that continues in this story, this is a series that you absolutely must read. Solidly done and well written, developed and complex characters and a story line that will absolutely leave you begging for more.
Reviewed by @hbahm
https://itsybitsybookbits.com/wp-content/uploads/2020/07/IBBB_2020_logo_sq.png
0
0
Heather Bahm
https://itsybitsybookbits.com/wp-content/uploads/2020/07/IBBB_2020_logo_sq.png
Heather Bahm
2019-03-29 14:11:20
2019-03-29 15:05:32
Seraphina's Revolution (The Seraphina Series Book 4) by Sheena Hutchinson – Review by Heather Bahm