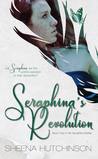 Seraphina's Revolution by Sheena Hutchinson
My rating: 5 of 5 stars
Do yourself a favor and read The Seraphina Series in order. It's really important to know the how and who of what is going on. (Prior to reading book 4, I skimmed back over the first 3 because I remember being a little lost when I started the third book and I wanted to have full knowledge of the characters.)
This whole series has been amazing from beginning to end. Now that it's over, I will be going back to read the entire series back to back. It will be a little bit easier doing it a second time because I won't be holding my breath waiting to see what happens.
If you had to ask me to pick a favorite scene from the series, I really could not. I could quote a hundred different moments (please don't ask me when I don't have my highlighted kindle in my hand) and convince you to love this series as much as I did. Yes I did enjoy some of the stories better than others – but each had a depth and complexity to it that moved the series along in such a way that I had a hard time waiting for the next story.
As the series continued, it got a little darker and more "adult". As the character grew, so did the story (does that make sense). I really hope the author writes a future series that crosses over a bit – that is, after all, how we first met Seraphina.
I really enjoyed and recommend this entire series.
Review by @mauraharper
https://itsybitsybookbits.com/wp-content/uploads/2020/07/IBBB_2020_logo_sq.png
0
0
Maura Harper
https://itsybitsybookbits.com/wp-content/uploads/2020/07/IBBB_2020_logo_sq.png
Maura Harper
2019-03-26 14:51:50
2019-03-26 22:56:19
Seraphina's Revolution (The Seraphina Series Book 4) by Sheena Hutchinson – Review by Maura Harper