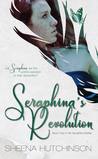 Seraphina's Revolution by Sheena Hutchinson
My rating: 4 of 5 stars
Having read all of her previous stories, I was really excited to read the next instalment in Seraphina's adventures and I wasn't disappointed.
Following her battle with Lucifer, the now familiar characters of Nate and Sera are settling into their normal life and trying to adjust to the results of the latest battle. Suddenly that calm life is swiftly thrown into chaos when Nate is kidnapped by Lucifer in a bid to ignite Sera's evil side.
In steps Arelia, Seraphina's appointed guardian to keep her on the straight and narrow and reveal a few truths to her. Together with the other guardians they fight to help Sera fulfil her destiny as "the Chosen one". An epic battle internally and externally will test Sera on all sides…but who will win? Good or Evil? No way I'm spoiling that one!!
Sheena Hutchinson creates such wonderful characters who, although they are supernatural, have enough human traits to make it easy for us to feel for them when things go wrong. She adds just the right amount of drama to her stories and "Revolution" is another triumph. Full of angelic, demonic and many other characters, this is highly recommended to fans of Supernatural drama. Perfect way to end off a series.
https://itsybitsybookbits.com/wp-content/uploads/2020/05/group-blue-01-April-2020-300x177.png
0
0
Natalie Hanley
https://itsybitsybookbits.com/wp-content/uploads/2020/05/group-blue-01-April-2020-300x177.png
Natalie Hanley
2019-03-18 15:46:02
2019-03-18 16:19:28
Seraphina's Revolution (The Seraphina Series Book 4) by Sheena Hutchinson – Review by Natalie Hanley