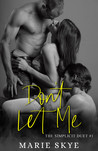 Don't Let Me by Marie Skye
My rating: 4 of 5 stars
I would like to find Ms. Skye and just maybe gently smack her. This is the first book I have read by this author and W-O-W! I loved her writing style and her frequent use of my favorite word the F word lol. The storyline flowed smoothly, and I found myself torn for each of the three main characters at one point or another. Damien, Jaxson, and Olivia, each have something that draws you in and makes you not only root for them but be conflicted. There was suspense, surprises, mouth dropping moments, and some dang hot steamy scenes. This author's work kept me engaged from the first page to the last page and I can't wait to read other books by her, but most of all I can not wait for the continuation of this story because I have so many thoughts on what might be coming next. Don't Let Me by Marie Skye is one of my fave books so far this year.
https://itsybitsybookbits.com/wp-content/uploads/2020/07/IBBB_2020_logo_sq.png
0
0
Colleen Noyes
https://itsybitsybookbits.com/wp-content/uploads/2020/07/IBBB_2020_logo_sq.png
Colleen Noyes
2019-04-08 23:41:49
2019-04-11 12:54:09
Don't Let Me (Simplicit Duet Book 1) by Marie Skye – Review by Colleen Noyes