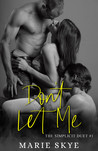 Don't Let Me by Marie Skye
My rating: 5 of 5 stars
Oh this book…oh this author…every time Marie Skye puts words on paper my heart bursts! Every book, while each story is different, has the same underlying WOW!
This story seems to be a love triangle with the hint of a love threesome. But then there's the danger of Olivia's birth father and the sneakiness of Jaxon AND Damien. I really don't know which one I am cheering for…oh wait yes, I do. It's Olivia!
I love the title of this book because I had to say it plenty of times while reading it… "don't let me" throw my kindle, "don't let me" wake my sleeping family from my yelling, "don't let me" message this author what I am feeling right now!
And I love reading books. I love reading series. I even like reading books with cliff hangers but when I don't even see the cliff coming!! O.M.G. way to go Marie Skye! Way. To. Go. Definitely looking forward to book 2.
Reviewed by @shannonlovesbooks
https://itsybitsybookbits.com/wp-content/uploads/2020/07/IBBB_2020_logo_sq.png
0
0
Shannon Fowler
https://itsybitsybookbits.com/wp-content/uploads/2020/07/IBBB_2020_logo_sq.png
Shannon Fowler
2019-04-09 16:50:01
2019-04-09 18:47:43
Don't Let Me by Marie Skye – Review by Shannon Fowler