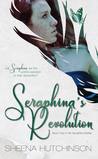 Seraphina's Revolution by Sheena Hutchinson
My rating: 4 of 5 stars
I give Seraphina's Revolution (The Seraphina Series Book 4) by Sheena Hutchinson, 4 stars.
*This review may contain spoilers of previous books in series.*
Sera was hoping it was all over, but it couldn't be that easy. Nate, the man that she loves and who keeps her darkness in check, has gone missing. He would never leave her, there must be something terribly wrong. She doesn't know if she can take anymore. He is all that matters. But then she has some new people come into her life, say they are there to help her, she is the only one who can save the world. But what are their intentions? Are they really who they seem? Does it even matter without her love by her side?
This has been a very interesting series. Sera definitely shows us that she's not perfect — she constantly struggles between good and evil. There are new characters introduced in this book that I absolutely loved. I really hope to see more of them, may be in their own book or series. The story is riveting too. There is so much going on, as well as a few surprises along the way to keep you on your toes. Personally, the first half of the book seemed a little drawn out to me, but that is just my opinion. Otherwise, I thoroughly enjoyed this book.
This series has been great and I recommend this book and series to those who love paranormal books.
Review by @erinwolf79
https://itsybitsybookbits.com/wp-content/uploads/2020/07/IBBB_2020_logo_sq.png
0
0
Erin Wolf
https://itsybitsybookbits.com/wp-content/uploads/2020/07/IBBB_2020_logo_sq.png
Erin Wolf
2019-04-10 10:24:54
2019-04-10 13:03:27
Seraphina's Revolution (The Seraphina Series Book 4) by Sheena Hutchinson – Review by Erin Wolf