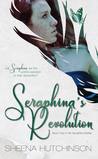 Seraphina's Revolution by Sheena Hutchinson
My rating: 5 of 5 stars
Seraphina's Revolution is the fourth book and the closing chapter of Sheena Hutchinson's Seraphina series. What a journey it has been! It is a bit of bitter sweet to bid Seraphina and Nate and the guardians but the writer gives us such a great conclusion that you will walk away while listing the series among the other great paranormal ones! Just to warn you, the series MUST be read in order, none of this I-will-read-a-bit-here-and-there!
The writer has given us the battle between the good and the evil out there in the world and the battle inside of us and that is just one of the reasons why this series is so memorable! Add to this all these angelic and demonic characters that are not your garden variety and you cannot go wrong!
https://itsybitsybookbits.com/wp-content/uploads/2020/07/IBBB_2020_logo_sq.png
0
0
Jana Teppih
https://itsybitsybookbits.com/wp-content/uploads/2020/07/IBBB_2020_logo_sq.png
Jana Teppih
2019-04-08 15:22:44
2019-04-08 15:31:25
Seraphina's Revolution (The Seraphina Series Book 4) by Sheena Hutchinson – Review by Jana Teppih