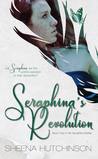 Seraphina's Revolution by Sheena Hutchinson
My rating: 5 of 5 stars
Seraphina's Revolution (The Seraphina Series Book 4) by Sheena Hutchinson is the final book in the Seraphina series I am sorry to say. It is a paranormal fantasy series and the books need to be read in order as they follow on from each other and is one story. I am sad to see the series end as I really enjoyed the journey with these wonderful characters. This story is fast paced and will certainly keep you enthralled and captivated from start to finish. There are a lot of characters in this final story and each one had a story of their own woven in amongst the main story. This series has been an amazing read and Sheena has done it proud and justice.
Sera is holding back her powers because she is afraid but if she doesn't use them then all will be lost. On the verge of destruction, she finally realises what she must do, the one thing that takes her away from every thing and everyone she loves.
I really enjoyed and recommend this entire series.
Reviewed by @jennadb
https://itsybitsybookbits.com/wp-content/uploads/2020/07/IBBB_2020_logo_sq.png
0
0
Jenni Bishop
https://itsybitsybookbits.com/wp-content/uploads/2020/07/IBBB_2020_logo_sq.png
Jenni Bishop
2019-04-04 04:08:17
2019-04-04 07:17:09
Seraphina's Revolution (The Seraphina Series Book 4) by Sheena Hutchinson – Review by Jenni Bishop