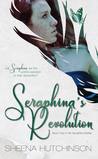 Seraphina's Revolution by Sheena Hutchinson
My rating: 5 of 5 stars
I have been patiently (ok maybe not so patiently) waiting for the fourth book in this series to be released! This was the series that made me fall in love with paranormal romance stories and I couldn't wait to see how this amazing series was going to end – but then that made me sad that this was in fact the last book in the series and I wasn't ready to let go of these amazing characters! I think Ms Hutchinson was indeed aiming to go out on a high with the final book and she 100% did that! It was a phenomenal read! I was hooked from beginning to end, the story was crammed full of action, the pace was amazing and I was completely and utterly captivated by what I was reading. I adore Sera, she has been an amazing character to follow and learn about. I knew what I wanted to happen for her in this story and I think the author completely did her justice in this book!
The series does need to be read in order to fully understand what is happening with the characters and I 100% recommend every single one of them!
I can't wait to read more from this author again in the future!
https://itsybitsybookbits.com/wp-content/uploads/2020/07/IBBB_2020_logo_sq.png
0
0
Katie Matthews
https://itsybitsybookbits.com/wp-content/uploads/2020/07/IBBB_2020_logo_sq.png
Katie Matthews
2019-04-02 09:09:08
2019-04-02 16:21:43
Seraphina's Revolution (The Seraphina Series Book 4) by Sheena Hutchinson – Review by Katie Matthews