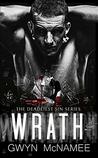 Wrath by Gwyn McNamee
My rating: 5 of 5 stars
Wrath (The Deadliest Sin Series Book 1) by Gwyn McNamee. HOLY MOLY! This is a book that when you pick it up you better buckle up and hold on. You will read it to the end without breathing. Its a short book ( The only bad thing about it) and the story of Jade & Griffin. Griffin is so swept up with Jade that he changes his whole being to be the man for her. Griffin grew up only knowing torture, pain, cruelty and death so turning into a good man for Jade is against everything Griffin knows. When Jade is kidnapped that dark side of Griffin comes out and he will do whatever it takes to get her back and make the person pay who has hurt her. I can't wait for Book 2. Read Wrath, you won't be disappointed!
http://itsybitsybookbits.com/wp-content/uploads/2020/02/group-01-01-300x183.png
0
0
Tausha Treadway
http://itsybitsybookbits.com/wp-content/uploads/2020/02/group-01-01-300x183.png
Tausha Treadway
2019-06-03 14:35:29
2019-06-03 16:08:42
Wrath (The Deadliest Sin Series Book 1) by Gwyn McNamee - Review by Tausha Treadway