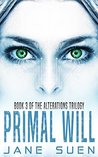 Primal Will by Jane Suen
My rating: 5 of 5 stars
Primal Will: Book 3 of the Alterations Trilogy by Jane Suen
5 Stars
Sitting here staring at the screen wondering what words to use to review this book, this series, and this author…
I've said it before and I will repeat…You absolutely never know what your going to get when you read one of this authors books, but the one thing you can always count on is you will read the last page and say to yourself…Wow, or something similar.
This series was quick when you rate it on the amount of pages contained in it as a whole, but when you rate it on content it seemed like so much more…This last installment had me reading so fast I caught myself tripping over the words and making myself slow down so that I could savor every second of it. What an amazing storyline from start to finish, so creative and addictive and I can not wait to go back and read it all over again, but this time back to back.
I'm not going to go into the specifics of the story….It needs to be read and mentioning anything here will take away from the other books in this series…Read it..In order, I dare anyone to read this and not sit in total awe of this author and then sit at different spots during the story contemplating your own thoughts about what your reading!!
Ok Miss Jane Suen, I've read all of your books, and I want more…You are an amazing story teller and I can not wait to see where you take us next!! But rest assured I'll be one of the first in line to find out!
Brilliant!!
Review by @debikircher
https://itsybitsybookbits.com/wp-content/uploads/2019/09/IBBB_promotions_logo-01-300x180.png
0
0
Debi Kircher
https://itsybitsybookbits.com/wp-content/uploads/2019/09/IBBB_promotions_logo-01-300x180.png
Debi Kircher
2018-08-14 12:51:15
2018-10-12 12:53:39
Primal Will: Book 3 of the Alterations Trilogy by Jane Suen - Review by Debi Kircher