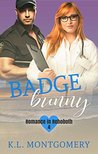 Badge Bunny by K.L. Montgomery
My rating: 4 of 5 stars
Badge Bunny a person who dates A LOT of cops; is the fourth book in the Romance in Rehoboth series by K.L. Montgomery and my first book by this author. I love small town romance because secrets are never secrets for long.
Chris and Brynne don't like each other much at first or should I say Brynne doesn't care for Trooper A**Hat at first. When Chris and Brynne stopped bickering and let their feeling move forward, it was an emotional sweet cute story. There is so much to this story other than two people meeting and falling in love.
If the first three books are anything like this enjoyable funny slow burn Rom Com than I need to go back and start this series from the beginning, this group of friends are hilarious.
https://itsybitsybookbits.com/wp-content/uploads/2020/02/group-01-01-300x183.png
0
0
Jessica Leombruno
https://itsybitsybookbits.com/wp-content/uploads/2020/02/group-01-01-300x183.png
Jessica Leombruno
2018-09-06 14:25:41
2018-10-05 14:27:16
Badge Bunny (Romance in Rehoboth Book 4) by K.L. Montgomery - Review by Jessica Leombruno