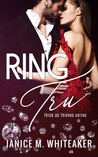 Ring Tru by Janice M. Whiteaker
My rating: 4 of 5 stars
I really enjoyed this book! When I first read the blurb I was intrigued to read it and whilst it did take me a little bit to get into once I did I was completely hooked. I've not read a storyline like this one before which meant it was really refreshing to read. There were some good twists and turns and most were unexpected. I loved Tru – I thought that she was a great female lead. Will was a great male lead and loved the intenseness between them, you can tell that what happened in their past is still at the very front of any interactions between them. The author got the level of suspense perfect and carried on the whole way through the story.
This is the second book that I have read by this author and I can't wait to read more from her in the future. Ring Tru is a brilliant read that I highly recommend!
https://itsybitsybookbits.com/wp-content/uploads/2020/07/IBBB_2020_logo_sq.png
0
0
Katie Matthews
https://itsybitsybookbits.com/wp-content/uploads/2020/07/IBBB_2020_logo_sq.png
Katie Matthews
2018-10-22 09:23:33
2018-10-22 11:09:13
Ring Tru (Thick as Thieves Book 1) By Janice M. Whiteaker – Review by Katie Matthews