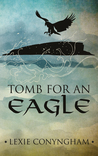 Tomb for an Eagle
By: Lexie Conyngham
My Rating: 4 of 5 stars
Tomb for an Eagle (Orkneyinga Murders, #1) by Lexie Conyngham was a thrilling tale of murder, suspense, and of course trying to find who did the deed.
My first read by this author, I jumped right in, as I love me a good murder mystery. Sadly to say I didn't get a good murder mystery.. no, I. Got. A. Amazing. One! This book kept me guessing till the end and I'm so happy that I was left in dark as possible, because when you get the answer you're going to be racking your brain trying to figure out what you missed.
I'm not going to give anything away, no spoilers here. But you must know that the writing is detail, engaging, and smooth. It keeps your attention, and simply sucks you into the world that Lexie Conyngham has created. I hardly looked up from this tale. I felt like I was there, apart of the mystery and suspense. I started to get just as suspicious as the townspeople, and at one point I was questing our MC. You can't look away in fear you'll miss something important. I found myself reading a little slower, to try and piece this puzzle together.
Overall this book is worth your time and energy. If you love mysteries this book will be right up your ally. Even if you don't, this book will still capture you. This is the book to break you out of your comfort zone, or even to break you out of a funk. So please take my super high recommendation and my stamp of approval, that you will not only love this book, but be begging for more.
Happy Reading
Review by @eawalsh
https://itsybitsybookbits.com/wp-content/uploads/2020/07/IBBB_2020_logo_sq.png
0
0
Emily-Ann Walsh
https://itsybitsybookbits.com/wp-content/uploads/2020/07/IBBB_2020_logo_sq.png
Emily-Ann Walsh
2018-10-19 07:11:27
2018-10-19 19:46:20
Tomb for an Eagle (Orkneyinga Murders, #1) by Lexie Conyngham – Review by Emily Walsh