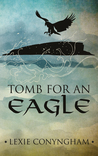 Tomb for an Eagle by Lexie Conyngham
My rating: 4 of 5 stars
Tomb for an Eagle is the first book in the Orkneyinga Murders series by Lexie Conyngham. It is an intriguing historical crime/murder mystery with lots of fascinating elements. It is set in Scotland in the age of the Vikings- which makes for fascinating reading just in itself. There is of course mystery, suspense, intrigue, and some drama. The story is quite original, and I enjoyed following along, trying to work out whodunit before everything was revealed.
Ms. Conyngham has a descriptive style, with an attention to detail that really works well with this genre. I found the map and list of characters at the beginning of the book, and the Outlandish word translations at the back of the book, to be quite helpful. I did find that some of the names were a little difficult to get my head around, and I'm glad I only had to read them and not pronounce them, as I'm sure I would have made a mess of them.
This may be my first read from Ms. Conyngham, but it certainly won't be my last. I am looking forward to reading the next book in the series, "A Wolf at the Gate".
Thank you, Ms. Conyngham!
Reviewed by @angelahayes
https://itsybitsybookbits.com/wp-content/uploads/2020/05/group-blue-01-April-2020-300x177.png
0
0
Angela Hayes
https://itsybitsybookbits.com/wp-content/uploads/2020/05/group-blue-01-April-2020-300x177.png
Angela Hayes
2018-10-30 14:33:07
2018-11-06 08:03:28
Tomb for an Eagle (Orkneyinga Murders Series Book #1) by Lexie Conyngham – Review by Angela Hayes