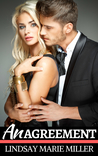 An Agreement by Lindsay Marie Miller
My rating: 4 of 5 stars
The 'Summer in New York' series just keeps getting better and better! I have been reading Lindsay Marie Miller's work for a while now, but if you haven't you could easily pick up any of these and read them as standalone novels. I would just recommend reading them all because they are equally great so why not? I do have to say this installment wasn't my absolute favorite of the series so far though, so that is why I marked at four stars. Just a personal thing. I didn't connect as much to the MC's and found myself struggling to get into the storyline a bit till the latter half of the novel. Otherwise the story was gripping and adorable. The perfect afternoon read!
"An Agreement" brings us the story of Bailey and Carter. A sweet and perfect friends to lover's story. Bailey is successful at running her own clothing boutique. She is also pretty good at designing them too when she gets a chance. Clothes that is what she is good at. Not men. She wants to be though. She looks to Carter to help her with that and an 'agreement' is made to show her all the ways of the man. But what happens when Mr. Right is right in front of you? Even if it is just your "friend?"
Review by @lizaileen
View all my reviews
https://itsybitsybookbits.com/wp-content/uploads/2020/07/IBBB_2020_logo_sq.png
0
0
Liz Vrchota
https://itsybitsybookbits.com/wp-content/uploads/2020/07/IBBB_2020_logo_sq.png
Liz Vrchota
2018-11-15 05:07:16
2018-11-15 17:30:01
An Agreement (Summer in New York Book 3) by Lindsay Marie Miller – Review by Liz Vrchota