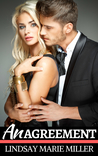 An Agreement by Lindsay Marie Miller
My rating: 5 of 5 stars
5 Star
An Agreement ( Summer in New York Book 3) by Lindsay Marie Miller is the third book in the Summer in New York series.If you haven't read the first two books I'd recommend reading them as well. I loved this story from the first page till the last. It's a great addition to an amazing series. This is Carter and Bailey's story.Bailey has her own boutique and even designs her own clothes sometimes. She's very successful and hard working. Then theres Carter whom believes he's a broken man. He's constantly thinking about her while telling himself he's no good for her.In comes the Agreement, Carter will help Bailey to understand mem.These two have serious chemistry between them. Can these two step out of the friend zone and have a relationship? Will they get their HEA? I highly recommend reading this Book especially if you want to know what happens next. I can't wait to read more from this Author.
https://itsybitsybookbits.com/wp-content/uploads/2020/07/IBBB_2020_logo_sq.png
0
0
Dawn Daughenbaugh
https://itsybitsybookbits.com/wp-content/uploads/2020/07/IBBB_2020_logo_sq.png
Dawn Daughenbaugh
2018-11-28 22:59:56
2020-04-13 11:52:30
An Agreement ( Summer in New York Book 3) by Lindsay Marie Miller – Review by Dawn Daughenbaugh