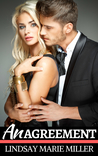 An Agreement by Lindsay Marie Miller
My rating: 4 of 5 stars
An Agreement is the third book in Summers in New York series by Lindsay Marie Miller. It is a sweet, sexy, contemporary romance, that has a heart-warming, romantic and captivating storyline.
This book can be read as a standalone, but as there are inter-connected characters and details, so I really recommend reading the other two books before starting on this one, to get all the backstory and character information, which will give you a better understanding of this book.
Bailey Lewis is Benjamin and Claire's daughter (Claire and Benjamin had their story back in Book #1). She's a twenty-five year old romantic who dreams of being swept off her feet by her knight in shining armour- of having her own fairytale romance with a happily ever after. Problem is she hasn't had much luck when it comes to meeting the right man. Plus, she's spent a great deal of time building her fashion business, right from the ground up. Her little boutique is finally doing really well, and she finally feels like she's proven herself business wise…. But she wants more. Her brothers talk her into online dating, something she has avoided up until now. But desperate times and all that. So, she sets off on her first 'date' only to end up at the wrong persons table. This innocent mix-up is where this story really gets interesting, and introduces her to Carter Boudreaux…. What happens, you ask? All the delightful details can be found when you read this great story for yourself….
I really have enjoyed this series, and this book is no exception. I can always count on Ms. Miller's imaginative and unique storylines to captivate and entertain me, she is definitely on my must read list. I am looking forward to her next book.
Thank you, Ms. Miller!
Reviewed by @angelahayes
https://itsybitsybookbits.com/wp-content/uploads/2019/09/IBBB_promotions_logo-01-300x180.png
0
0
Angela Hayes
https://itsybitsybookbits.com/wp-content/uploads/2019/09/IBBB_promotions_logo-01-300x180.png
Angela Hayes
2018-11-15 12:50:34
2018-11-15 12:59:17
An Agreement (Summer in New York Series Book #3) by Lindsay Marie Miller - Review by Angela Hayes.