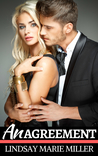 An Agreement by Lindsay Marie Miller
My rating: 4 of 5 stars
An Agreement by Lindsay Marie Miller this is the third book in this great series, this book offers the romance that we have come to love from Lindsay Marie Miller. The characters have such chemistry and the flow of the story was just great.
Bailey is a old romantic at heart and is looking for the right man to come along and sweep her off her feet, but she has been working hard to get her fashion boutique up and running so she has little romance in her life especially meeting eligible suitors. So as she is with her brother he convinces her the best way she will meet someone is to go online.
So as she goes on the first date it ends up with her having a misunderstanding and turning into a interesting date in the end. Carter is not looking for love but when he has a interaction with Bailey he can't get her out of his head. So as the story goes you get to see the romance blossom between these two great characters.
Although this book can be read as a stand alone there is some cross over with the other two books in this great series but hey they are brilliant so I recommend you read them anyway. The book is fast paced and is well written and is a great third instalment in this series.
Review by @ashirley
https://itsybitsybookbits.com/wp-content/uploads/2020/07/IBBB_2020_logo_sq.png
0
0
Angela Shirley
https://itsybitsybookbits.com/wp-content/uploads/2020/07/IBBB_2020_logo_sq.png
Angela Shirley
2018-11-27 01:22:58
2018-11-27 14:07:46
An Agreement (Summer in New York, #3) by Lindsay Marie Miller – Review by Angela Shirley