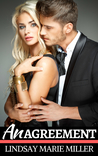 An Agreement by Lindsay Marie Miller
My rating: 4 of 5 stars
An Agreement, Summer in New York Book 3 by Lindsay Marie Miller
4 out of 5 stars
Lindsay Marie Miller is a fantastic author. This third installment in the Summer in New York Series is a fantastic book. Ms Miller has the singular ability to create two separate individuals within the confines of the covers of a book and submerge them and the reader into a world into a world that is detailed and amazing! Bailey has found herself single at the ripe old age of twenty-five but refusing to stay single for much longer, she reaches out to her friend Carter to find out exactly what she is missing in obtaining the perfect man for her..even though she knows the perfect man for her is Carter.
Carter thinks he is a broken man. On the inside and out. Bailey is too good of a person and has too sweet of a soul to love someone like him. So he does the next best thing, he does everything in his power to make sure she finds her white knight..even if that isn't him.
This sweet romance has some series chemistry to it and the secrets come out that they are hiding from each other…some serious sparks fly. I found myself laughing at a few mishaps and at others I was frustrated at the OBVIOUS sexual tensions, but alas, with age comes wisdom..and when you are only twenty-five, you seem to miss what is right in front of your face. Highly recommended.
Reviewed by @kgregory
https://itsybitsybookbits.com/wp-content/uploads/2019/09/IBBB_promotions_logo-01-300x180.png
0
0
Krystal Gregory
https://itsybitsybookbits.com/wp-content/uploads/2019/09/IBBB_promotions_logo-01-300x180.png
Krystal Gregory
2018-11-14 19:28:08
2018-11-14 19:34:45
An Agreement: Summer in New York, Book 3 by Lindsay Marie Miller - Review by Krystal Gregory