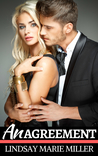 An Agreement by Lindsay Marie Miller
My rating: 4 of 5 stars
An Agreement was a good 4 star read and book three in the Summer in New York series.
Bailey is a 25 year old with her own clothing store that is finally starting to go in the right direction. She has always had the fairy tale dream of the right man coming along. When her brothers talk her into trying online dating she ends up with a date, there is a slight mixup and she ends up meeting Carter.
Carter meets Bailey when she comes to his restaurant, there was something about her that pulled him in. When fate steps in he finds himself having lunch with Bailey and his sister. Carter just isn't looking for anything right now due to his past but he agrees to help Bailey understand men better. The more he helps Bailey the more complicated things start to get. Can they really keep things at a friends level?
I really liked Bailey, she was a very sensitive woman looking for, the one. Carter pulled at my heartstrings also, the chemistry that these two had was great. My emotions were all over the place with this read. The secondary characters were good. It took a little bit for me to get pulled in at first but once I was, I couldn't stop until I was done. I was once again pulled in by this authors writing, This can be read as a stand alone. I can't wait to read more from this series.
Reviewed by @mab54615
View all my reviews
https://itsybitsybookbits.com/wp-content/uploads/2020/07/IBBB_2020_logo_sq.png
0
0
Michelle Austin
https://itsybitsybookbits.com/wp-content/uploads/2020/07/IBBB_2020_logo_sq.png
Michelle Austin
2018-11-14 19:20:07
2018-11-14 19:35:53
An Agreement by Lindsay Marie Miller – Review by Michelle Austin