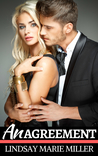 An Agreement by Lindsay Marie Miller
My rating: 4 of 5 stars
An Agreement (Summer in New York Book 3) by Lindsay Marie Miller
4 stars
This is the 3rd book in this series and while it could be read as a standalone, its best to read the first 2 to get backstory and all the context going on.
I really enjoyed this story and seeing the relationship grow between Bailey and Carter. I was able to connect to the characters on some levels and that made this story easy to read and not put down.
I cant wait to read more from this author.
https://itsybitsybookbits.com/wp-content/uploads/2020/07/IBBB_2020_logo_sq.png
0
0
Lyndsey Fairley
https://itsybitsybookbits.com/wp-content/uploads/2020/07/IBBB_2020_logo_sq.png
Lyndsey Fairley
2018-11-25 19:47:44
2018-11-25 19:47:44
An Agreement (Summer in New York Book 3) by Lindsay Marie Miller – Review by Lyndsey Fairley