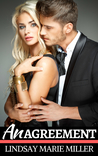 An Agreement by Lindsay Marie Miller
My rating: 5 of 5 stars
An Agreement ( Summer in New York, #3 )
By Lindsay Marie Miller
5/5 Stars
Ok, this is my favorite of the series by far!! I really love this book and enjoyed the story, from beginning to end!! If you're a sucker for …a sweet and heartwarming romance story, this one's for you!! But don't worry, this book can be read as a stand-alone. But you'll want to read the previous books too, trust me on that !!
Bailey and Carter are more alike than they even realize. They both seem to think they aren't good enough for one another. And they each have deep and damaging scars from their past. But together, they are a force to be reckoned with!!
Now, I can identify with each Bailey and Carter's characters. But I did feel a more of a connection with Bailey. She is the strong and quiet type, like myself. We don't realize how strong we truly are!! I love her!! And Carter… he is persistent and doesn't give up on what he wants.. ever !! No matter how hard things get, he doesn't give up!!
I hope to hear from this amazing couple again!! Another wonderful job, Lindsay! I can't wait to see what you have in store for us next !!
https://itsybitsybookbits.com/wp-content/uploads/2020/07/IBBB_2020_logo_sq.png
0
0
Nicole Alamillo
https://itsybitsybookbits.com/wp-content/uploads/2020/07/IBBB_2020_logo_sq.png
Nicole Alamillo
2018-11-27 08:10:24
2018-11-27 08:36:55
An Agreement ( Summer in New York, #3 ) by Lindsay Marie Miller – Review By Nicole Alamillo