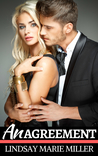 An Agreement by Lindsay Marie Miller
My rating: 5 of 5 stars
An Agreement (Summer in New York Book 3) By Lindsay Marie Miller. I continuously am finding myself up well into the late hours when I start a book by this author because I simply can't but it down. This book was no different and just couldn't stop Carter and Bailey's story. These two have a story that needs to be read, they chemistry they share come of the pages in waves. Each of them with pasts that haunt them and finding their way to looking more towards the future than the past. These books can definitely be read as a standalone without any confusion but trust me you will want to read them all. The author writes a story filled with emotions you feel deeply. It's well written and paced nicely. I'm giving this book a five star review and highly recommend it to anyone.
https://itsybitsybookbits.com/wp-content/uploads/2020/07/IBBB_2020_logo_sq.png
0
0
Katie Kearney
https://itsybitsybookbits.com/wp-content/uploads/2020/07/IBBB_2020_logo_sq.png
Katie Kearney
2018-11-21 12:24:15
2018-11-21 18:52:00
An Agreement (Summer in New York Book 3) By Lindsay Marie Miller – Review by Katie Kearney