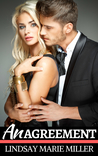 An Agreement by Lindsay Marie Miller
My rating: 4 of 5 stars
An Agreement by Lindsay Marie Miller is the third book in her Summers in New York series, and it just keeps getting better and better. Following the story of Bailey Lewis, who is Benjamin and Clarie's daughter who you get to meet in book one. A romantic at heart, Bailey dreams of being swept off her feet by her prince charming, but her problem comes from meeting the right man. Add to that, Bailey has been spending all of her time building up her brand and proving herself in the fashion industry, but now she wants more. When her brothers talk her into online dating she goes reluctantly, and then ends up at the wrong table with a guy that is the best kind of wrong. When things start to heat up between Bailey and Carter, she has to wonder if fate had a hand to play in her getting the wrong guy at the right time? Miller is an old favorite of mine, having read several of her books in the past, as well as the first two books in this series, I couldn't wait to read this one. I highly recommend this book to be read after books one and two, just to get the full effect of the series. This book was just great to read, and I couldn't get into it fast enough. If you are looking for a great author Miller is one that you need to add to your collection and get this series pronto!
Reviewed by @toxikcupkake26
https://itsybitsybookbits.com/wp-content/uploads/2020/07/IBBB_2020_logo_sq.png
0
0
Ashleigh Harrington
https://itsybitsybookbits.com/wp-content/uploads/2020/07/IBBB_2020_logo_sq.png
Ashleigh Harrington
2018-11-26 23:02:38
2018-11-27 06:26:47
An Agreement (Summer in New York Series, book 3) by Lindsay Marie Miller – Review Ashleigh Harrington