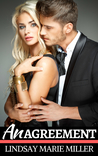 An Agreement by Lindsay Marie Miller
My rating: 5 of 5 stars
An Agreement is the third book in the Summer in New York series. It can be read as a standalone.
An Agreement is an emotional story and I found myself tearing up several times. The romance part of it is not graphic in nature and it seemed to me that the focus was on the challenging parts of relationships. I think that is what made the story more real. An Agreement really puts emphasis on the way that the things we've experienced in our life can influence the way we interpret and respond to different aspects of relationships. Even though the synopsis of the book clearly states a HEA, there are several times when reading the story that you still wonder if they will make it.
This book was an easy read and I finished in one day. One suggestion I would make is not to read it in public if you are sensitive, because you might cry. Try explaining that to the people sitting around you in the coffee shop, lol. I almost had to. Also, this book does deal with some sensitive subject matter, although not in explicit detail.
http://itsybitsybookbits.com/wp-content/uploads/2020/02/group-01-01-300x183.png
0
0
Naomi McDonald
http://itsybitsybookbits.com/wp-content/uploads/2020/02/group-01-01-300x183.png
Naomi McDonald
2018-11-15 05:57:09
2018-11-15 07:16:25
An Agreement (Summer in New York, #3) by Lindsay Marie Miller - Review by Naomi McDonald