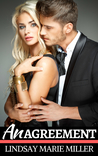 An Agreement by Lindsay Marie Miller
My rating: 5 of 5 stars
An Agreement: Summer in New York book three by Lindsay Marie Miller. This was a difficult story to read, not because of the story, that was great but the characters made you feel so much. An Agreement is about getting a second chance at love and life. Even if you don't think you deserve it, or your not good enough, all the negative thoughts, fears, doubts and blame for past experiences. The main characters Bailey and Carter each have a difficult past and secrets they aren't sure they want to come out but eventually they all come out and every time they take one step forward it's three more steps back. With they ever move past their fears and doubts and just be happy?
View all my reviews
Review by Krystalgaston
https://itsybitsybookbits.com/wp-content/uploads/2018/09/41350827_531011120653197_5005389383935721472_n-1030x381.jpg
0
0
Krystal gaston
https://itsybitsybookbits.com/wp-content/uploads/2018/09/41350827_531011120653197_5005389383935721472_n-1030x381.jpg
Krystal gaston
2018-11-14 01:37:10
2018-11-14 04:14:10
An Agreement: Summer in New York Series by Lindsay Marie Miller - Review by Krystal Gaston