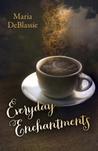 Everyday Enchantments by Maria F. DeBlassie
My rating: 5 of 5 stars
Everyday Enchantments: Musings on Ordinary Magic & Daily Conjurings By Maria F. DeBlassie. I think we could all benefit from enjoying life's small things and that's what I took away from this book. This isn't my usual read but I'm really glad I took a chance because by the end I had a bit of a different look on life. This book is filled with thought provoking experience and I love the writing style. There's many of lessons that could be learned from this book. There's emotion written in that readers can feel. While this is a more thought provoking book it's a very relaxing book to read. The perfect book for a Sunday afternoon, cozy chair and hot cocoa. I'm giving this wonderful book a five star review and highly recommend it to anyone no matter what your reading likes are.
https://itsybitsybookbits.com/wp-content/uploads/2020/05/group-blue-01-April-2020-300x177.png
0
0
Katie Kearney
https://itsybitsybookbits.com/wp-content/uploads/2020/05/group-blue-01-April-2020-300x177.png
Katie Kearney
2018-11-23 11:04:31
2018-11-23 12:26:55
Everyday Enchantments: Musings on Ordinary Magic & Daily Conjurings By Maria F. DeBlassie – Review by Katie Kearney